Radiating Moisturizer
Rose Gold Elixir
The Rose Gold Elixir is a fast absorbing, light-weight beauty oil infused with 24K Gold, Rosehip Seed Oil and pure botanicals. 
Rosehip Seed Oil and Safflower Oil nourish and moisturize the skin, making the complexion look even, supple and hydrated. 24K Gold is a natural mineral used that helps skin look radiant and gives it a natural glow. Beneficial for all skin types.  
It is widely known that products created with Rosehip Seed Oil have many benefits on the skin. This ingredient reduces the appearance of fine lines by deeply moisturizing the skin. It is also full of vitamins and antioxidants that help to even out overall skin tone. 
* BS = "Bad Stuff" — By "CLEAN AND BS FREE," we mean that the product is formulated without Sulfates—SLS + SLES, Parabens, Formaldehydes, Phthalates, Mineral Oil, Retinyl Palmitate, Oxybenzone, Triclosan, Triclocarbon, Hydroquinone, Talc, Phenoxyethanol (if any) is at a concentration below 1% of the total formulation, Synthetic fragrances (if any) is at a concentration below 1% of the total formulation. This product is vegan and cruelty-free.
Shake Rose Gold Elixir well before use; so you can achieve the best results and even application of 24k gold on your skin. Apply to face and neck, morning and night for best results. Suggested uses, for your inspiration, below:
Moisturizing Beauty Oil:


Rose Gold Elixir is an effective lightweight moisturizer with added anti-aging benefits (

for all skin types

). Use the Rose Gold Elixir as a daily moisturizer, to keep your skin healthy and hydrated. The pure 24k Gold flakes absorb right into your skin, leaving your skin glowing and naturally radiant. The base of this luxurious Elixir is Rosehip Seed Oil. Rosehip Seed is made up of 77% fatty acids -- high in linoleic and linolenic acids, vitamin C, and vitamin A (retinol) -- all essential for skin health. Rosehips have been found to regenerate tissue and reduce the appearance of

fine lines

,

hyperpigmentation

, and

stretch marks

.




Hydrating Lips:


It can be used to hydrate lips before applying lipstick. The Rose Gold Elixir effectively keep lips from drying out, especially when using liquid/matte lipsticks, without affecting the finish. TIP: Make sure to let the drops absorb into the lips before applying lipstick.




Mix With Foundation:


Use 1-3 drops to mix with your favorite foundation (we recommend a full coverage matte foundation) to keep your skin hydrated and glowing.




Revive Dried Cream Products:


Sometimes cream products can tend to dry out. Instead of throwing them away, just add 1-3 drops to your favorite cream concealer, contour, highlight, or brow pomade, to bring them back to life!
TIP: APPLICATION WITH A BEAUTY SPONGE OR BRUSH
Start by dotting your foundation onto your skin first, then apply 1-2 drops on a damp beauty sponge (or brush) to blend in your foundation for a glowing finish. For those with dry under eyes (or requiring extra hydration), you can also use with concealer and contour. First apply concealer under eyes, followed by cream contour. Then apply 2 drops of Rose Gold Elixir to a damp beauty sponge (or brush) and blend in. This makes blending easier, while the 24k Gold helps achieve that radiant glow!
Caution: Discontinue use if redness or irritation occurs. Keep out of eyes. For external use only.
Rosehip Seed Oil, Safflower Seed Oil, Pumpkin Seed Oil, 24k Gold, Vitamin E, Lemongrass Oil, Orange Peel Oil
Customer Reviews
Write a Review
Ask a Question
Filter Reviews:
serum
makeup
foundation
love
glow
skin
face
elixir
Farsali
moisturiser
Am sold for life
I am 40 years old and I have three wonderful girls and a son ! The age range from 8 years old to 2 years old..blessed and farsali saved me and I look younger than my own age..litterly people think am in 20s..it just nice and very strong confident feeling..I hardly wear foundation..so I am happy women! Thank you farsali ..am growing old with farsali...lol
06/22/2020
Lori C.
United States
I Have tried Similar Elixirs to this one but None Compare
I have Personally Contacted Farsali on how I have Tried Very Similar Elixirs, Serums and Oils to this Rose Gold Elixir of Farsali's and I have Spent $100's of Dollars on them. I can Definitely Tell you that NONE of them Work as Well as Farsali Rose Gold Elixir. I use Farsali Rose Gold Elixir as a Skincare Product and as a Primer before Applying my Foundation and it just gives me this BEAUTIFUL Glow from within as if I was Born with it. It Does Not Leave my Face Greasy or with a Residue. Farsali you have Done an Amazing job with your Rose Gold Elixir and I am just in LOVE with it. Thank You.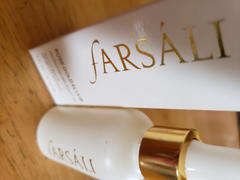 06/19/2020
Josephine F.
United States
Dream oil! Invest in your skin w Farsali <3
Been dying to try out Farsali and god it definitely lived up to the hype. I've been using a combination of vitamin e and rosehip from iHerb for a couple years, and it was decent. Cheap but effective.  I've tried a little more expensive rose oils but Farsali is where it's at. I purchased the Rose Gold Elixir. I mean, the instant  I smoothed it into my skin , oof. the smell, the feel, was overall heavenly, and after a good month of using it in my daily routine I can honestly say it treats my skin super well; better than any others I've tried. If you have the money, I'd say please do your skin a favor and try it out. Worth every penny.  I looove it and I can't wait to try out the others. 
06/15/2020
Hina M.
United States
Love your products.
Great!!